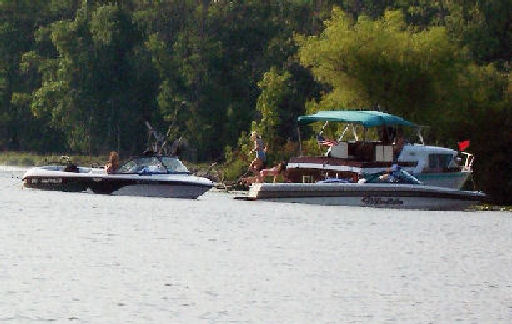 Notice to Mariners
VSC Inspection (Vessel Safety Check) – If you haven't done so, this is a good time to get a VSC inspection. Make sure your boat is safe.
Updated Lower Fox Locks Construction Timeline: February 28, 2010
The Fox River Navigational System Authority (FRNSA) was created in 2001 by the State Legislature to facilitate the transfer and rehabilitation of the lower Fox River locks from the U.S. Army Corps of Engineers.
In 2005, stabilization work was completed in Kaukauna and Little Chute locks.
In 2006, an aquatic invasive species-monitoring program above and below the Rapid Croche Sea Lamprey barrier was initiated. This program is under the direction of Dr, Bart De Stasio of Lawrence University in Appleton, WI.
In 2006, the four Appleton locks were rebuilt and came in on time and under budget. The City of Appleton also replaced the Olde Oneida Street Bridge.
The Lawe Street Bridge and the CN Railroad Bridge at Appleton Lock #4 were rebuilt in 2007.
The Cedars Lock and the mile long dike through the Village of Little Chute was rebuilt in 2008, as well as the Little Chute guard lock, lock and combined locks.
In 2010, restoration of Kaukauna Lock #5 is scheduled.
The restoration of one lock annually of the remaining four Kaukauna Locks is set to begin in 2011. Completion may be earlier than 2014 pending financial ability with receipt of remaining federal funds and investment income returns.
August 2010 – Restoration of the Fox River Locks is again proceeding after a year hiatus. No lock restoration work was completed in 2009 and 2010 because of funding constraints due to the financial down turn. Design work is now underway for Kaukauna Lock #5 construction in 2011. According to the current financial situation the four locks in Kaukauna are scheduled for completion by 2014.
During 2009 and 2010 minor work was completed including bank restoration, wall repairs, building maintenance and emergency lock repairs. Also, based upon a special stimulus grant eight of the historic lock tender houses are having exterior restoration and stabilization. This work will be completed by October 15th, 2010.
There are three financial pieces of the puzzle that still need to be completed
A requirement of the original locks transfer agreement was that $2.8 million needs to be raised locally to obtain state and federal matches. At this time, approximately $370,000 of that amount remains to be raised;
The federal match still needs to be secured by action of the federal representatives.
A plan for and funding to support the transfer of boats over the sealed Rapide Croche sea lamprey barrier must be approved. This plan, including an aquatic invasive species management element, is currently under development.
Local citizens and business owners interested in the project can participate and provide input by contacting the FRNSA at their headquarters in the Corps of Engineers Building, 1008 Augustine St, Kaukauna, WI 54130.
Residents and businesses are encouraged to become members of the Friends of the Fox and support local Fox River efforts including possible donations to "Unlock the Fox Locks Fund". The ultimate success of the project depends on citizens of the area, as this is not considered to be a government project; it is a local project to benefit the local folks in the Fox Valley Region.
All donations are considered to be charitable contributions
For more information on this project, contact:
Harlan Kiesow
Executive Director of the FRNSA
(920) 759-9833
OR
Dave Peck
President of Friends of the Fox
(920) 730-0513