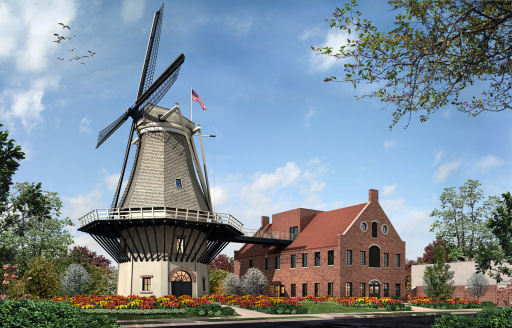 Above is a full-color architectural rendering of the Little Chute Windmill & Van Asten Visitor Center, just as it will appear in downtown Little Chute.
Little Chute Windmill, Inc. is a 501(c)(3) non-profit organization dedicated to raising $2.5 million dollars to build an authentic functioning 125 foot tall Dutch windmill and interpretive center in Little Chute, Wisconsin.
The facility will be built on beautiful Island Park on the Fox River, 1500 feet south of downtown Little Chute. Visitors will have the opportunity to tour the different levels of the Windmill and see it in action as it harnesses wind power to grind grain into flour.
The Van Asten Visitor Center will feature exhibits on the history and legacy of Dutch settlement in the Fox River Valley and northeast Wisconsin.
To date, $2.1 million dollars have been raised. Little Chute Windmill, Inc. is devoted to providing cultural and educational opportunities and endeavors to have a positive economic impact on the community.
Project Timeline
December 2008
Windmill Ordered! The Windmill is currently under construction in Holland.
June 2010
First shipment of windmill pieces arrived from the Netherlands.
August 2011
Windmill Groundbreaking. Construction began on-site.
May-June 2012
Verbij craftsmen assemble the windmill on-site.
June 7, 2012
The BIG Lift! Windmill is assembled using 350-ton crane.
June 25, 2012
Windmill is fully-functional, volunteer miller training begins.
August-November 2012
Van Asten Visitor Center is under construction.
Spring 2013
The Little Chute Windmill & Van Asten Visitor Center will OPEN to the public!*
For more information, please visit: Little Chute Windmill Inc.